Share Your Discount<br>Earn 25%<sup>*</sup>

Share Your Discount
Earn 25%*
<h1><strong>For Independent Distributors</strong></h1><h4>Not a Distributor? Get Details on MyShop for <a href="https://philippines.4life.com/corp/page/43/myshoppc">Preferred Customers</a>.</h4>
For Independent DistributorsNot a Distributor? Get Details on MyShop for Preferred Customers.

On your MyShop site, your customers can purchase their favorite products, and we'll fulfill and ship their orders.

Earn a 25% commission on each customer's purchase—paid to you within 2-3 banking days!*
Share your discount
Manage MyShop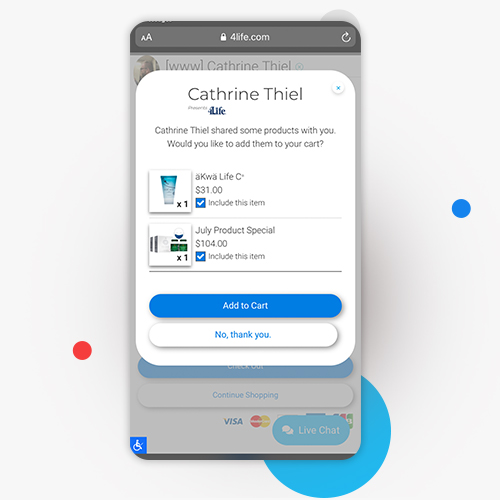 Custom carts
Have a few product suggestions in mind? We make sharing easy! Create a custom shopping cart with product recommendations and share it with your customers. All that's left for them to do is checkout! Only available in the 4Life Business app.
*An independent distributor must have qualified with 100 PV in the current month to be eligible for MyShop Commissions.
**Free shipping is only applicable to orders placed in the Philippines of 250LP or more.
†All customizable MyShop settings are subject to review by 4Life.
***Comissions are paid within 2-3 banking days.